About SMBC
Sumitomo Mitsui Banking Corporation (SMBC) is one of
Japan's leading banks and the core unit of Sumitomo Mitsui Financial Group.
Message from Top Management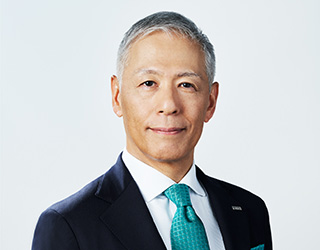 President and Chief Executive Officer (Representative Director)
Akihiro Fukutome
Today, I am pleased to greet you as the President and CEO of Sumitomo Mitsui Banking Corporation. I would like to express my appreciation for your support of SMBC.
To realize our vision of becoming "A trusted global solution provider committed to the growth of our customers and advancement of society," all members of the SMBC family must ensure that their actions are always consistent with our Five Values (Integrity, Customer First, Proactive & Innovative, Speed & Quality, Team "SMBC Group") and conduct our business in a manner that reflects the "Life happens on site" mindset. This mindset is the basis of SMBC's commitment to working with customers and markets to the very best of our abilities and to carefully think through all relevant matters.
As the core bank of SMBC Group, my colleagues and I at SMBC will devote our best efforts to contribute to the further development of the Group.
I look forward to receiving your continued support and guidance.
Thank you.