Transaction
Perfect

By assigning each customer to a unique collection (virtual) account, you will be able to distinguish who the actual payer is for every incoming funds even if you receive the funds under a different name.
Your collection account statement will now include additonally the virtual account number.
You will be able to reconcile your accounts based on numbers.
<SMBC hold "business model" patent for Perfect>
Japan Link Service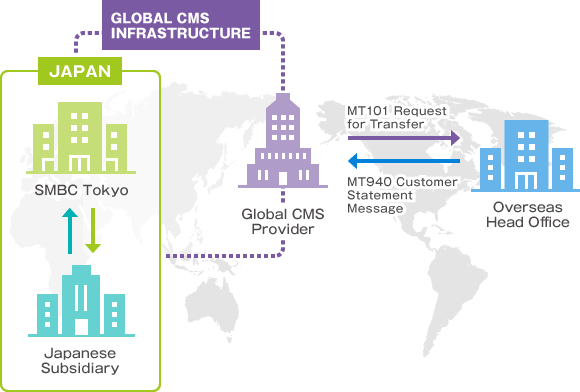 Through Global CMS provider, you will be able to access to your Japanese subisidiary's account information as well as to send fund transfer information from overseas using SWIFT.
Multi-bank Sweep Service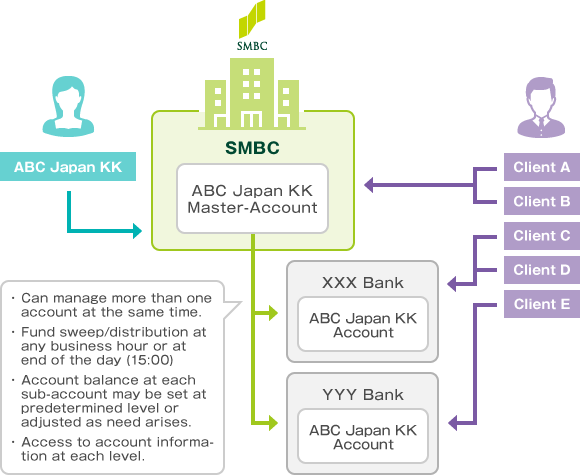 Global e-Trade Service / i-Deal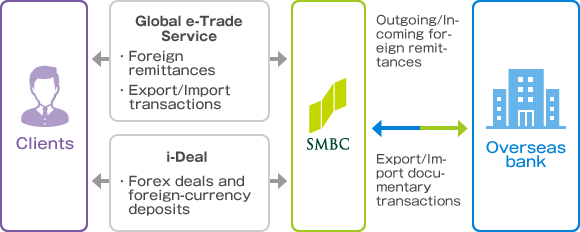 Global e-Trade Service and i-Deal provide you with a window for trade settlement viathe internet.
Foreign remittances, L/C open and notification of others can be provided via Global e-Trade Service.
FX deals, non-JPY booktransfers, market information etc. will be provided via i-Deal.
Trade Receivable Purchase Program
On the Purchase Date

・

Chelsea purchases the receivables from Seller.

・

Chelsea borrows Non-Recourse Loan from SMBC for the purchase of receivables.

・

Seller receives the proceeds from Chelsea.
On the Collection Date

・

Seller, as a collection agent for Chelsea, collects the receivables from Obligors.

・

Seller remits the proceeds to Chelsea on the settlement date.

・

Chelsea repays the loan on maturity.
SWIFT Direct Connectivity for Corporates
SMBC Direct Access via SWIFT* provides efficient communication channel and streamlines processes tapping directly into the SWIFT network for SWIFT members of nonfinancial institutions to manage and control accounts with SMBC in Japan and Asia Pacific region.
With SWIFT's single and secure access point, SMBC enables you to make payments and receive account statements via SWIFT's messaging platform, SWIFTNet.
・

FileAct and MT101: Request for fund transfers can be sent to SMBC. FileAct is typically used for domestic batch payment, and MT101 is used for both domestic and cross border single payment.

・

MT940 and MT942: Day end account statement and intra-day reports are available.
For service details and conditions, please contact our branches/offices. "Contacts" List.
The Society for Worldwide Interbank Financial Telecommunication (SWIFT) is a cooperative society which is owned by member financial institutions. SWIFT operates a worldwide financial messaging network which exchanges messages between banks and other financial institutions.
Details of SWIFT can be found at http://www.swift.com/
Web21

SMAR&TS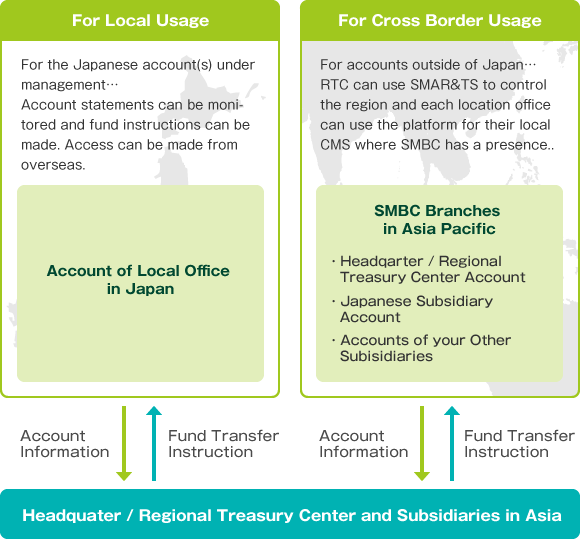 ・

Multi-language platform

・

View account statement

・

Initiate cross-border and domestic transactions. (Payee detail will need to be converted into Japanese local letters)

・

High security and flexible user control - TLS encryption, usage of one-time password
Corporate Account
Find Your Nearest SMBC Branch for Corporate Bank Account Applications.
We will have a review on your application in our branches.
Support for Opening Corporate Bank Accounts in the Name of Legal Business Entities of Non-Japanese Corporations in Japan
※

Service for Personal Banking in Japan ⇒Here