Project Finance
Project finance is a long-term financing of infrastructure and industrial projects where the source of debt repayment is limited to the cash flow generated by the underlying project with non or limited recourse to the project sponsors. It has been widely used especially to finance large-scale projects worldwide due to such recourse characteristics.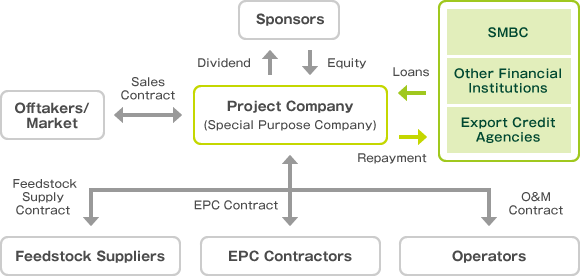 Typical Structure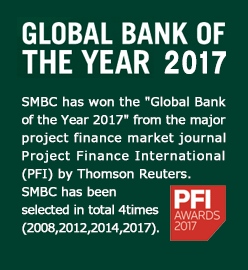 SMBC has been one of the leading international banks for many years in this field providing a full range of financial services including lending, advisory, syndication, agent and ECA coordination. SMBC is active in various key sectors such as conventional power, energy, natural resources infrastructure and renewables, having successfully financed numerous projects across Asia Pacific, Europe, Middle East, Africa, North and Latin America.
SMBC is four times winner of the "Global Bank of the Year" award of the major project finance market journal — Project Finance International by Thomson Reuters — and is well acknowledged as one of the leaders in this business. SMBC is committed to promote project finance as one of its core business with dedicated and experienced team on the ground to support our important clients on a global basis.