---
1. Characteristics in Brief
Widespread Use of Wire Transfer
Used frequently in transaction among corporates and indivisuals.
Wire transfers can be initiated via most ATMs in Japan
Personal Checks Seldom Used
Personal checks are rarely issued and seldom used.
Corporate Checks and Notes
One of the most popular settlement method within the corporate scene is the use of corporate checks and notes, which is supported by Japan's well developed discount note market.
Widespread Acceptance of Direct Debit
Direct debit is widely accepted as the preferred method of payment for utility and telephone bills, mortgage payments, and many other payments.
"Two Strikes and You're Out" Rule
Since 1894, the Japanese clearing system has been characterized by a mandatory "business suspension" rule, under which the participating banks must suspend business with the obligatory payer of a dishonored note or check.
Under the present system, if a party dishonors a note or a check, twice during a six-month period, all financial institutions participating in the relevant clearing house must halt all Current Account (checking account) and lending transactions with that party for a period of two years.
The system is exempt from the Anti-Monopoly Law, because it is designed to maintain the credibility of the clearing system.
2. Popular Payment Methods Among Companies
B2B
Wire Transfer ("Furikomi")
Initiated at a bank branch counter, through a bank ATM, or through a bank electronic banking (EB) system.
Reasonable fees, ranging from 100 yen to 800 yen per transaction, with discounts for intra-bank transfers.
Checks ("Kogitte")
Widely used but typically denominated in Japanese Yen only.
Notes ("Promissory Notes _ P-Notes" or "Tegata")
Still the most commonly accepted payment among companies, but in recent years, wire transfers are catching up.
Japan has a well developed discount note market and is one of the key sources of working capital.
Direct Debit ("Kouza Furikae")
Widely accepted in transactions among corporates and individuals.
B2C, C2C
Cash ("Genkin")
Still the most widely used form of payment in Japan among individuals.
Wire Transfer ("Furikomi")
Widespread use of personal banking software through WEB has encouraged more usage of wire transfer recently.
Direct Debit ("Jidou Furikae")
Widely accepted in transactions among corporates and individuals.
Checks ("Kogitte")
Individuals rarely use this method of payment.
Debit Cards
Use of debit cards is still in its infancy in Japan.
Credit Cards
A popular method of payment for individuals. Many, however, are very cautious about using it for internet shopping.
3. Not just a plain old ATM
ATMs in Japan do much more than to dispense cash and to take deposits.
Besides the services you are accustomed to in US or European countries, most ATMs in Japan are capable of domestic wire transfers and accepting time deposits.
Even with the onset of internet banking, electronic payment via wire transfer capable ATMs are still one of the popular payment methods among the general public.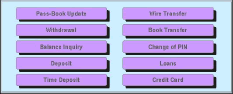 4. Network Size and Wire Charges
Whether it is processed through a bank teller or an ATM, wire transfer charges in Japan are generally set so that the charges for same-bank intra-branch and intra-bank-network transactions are lower than that for inter-bank transactions.
Therefore, bigger the size of local bank's branch/ ATM network, lower the charges associated with inter-bank transactions.
5. Japanese Language Specific Issues
The "Zengin" system, the largest domestic EFT network connecting all depository institutions in Japan, operated by the Tokyo Bankers Association, uses "Katakana" (phonetic Japanese letters) instead of Roman Letters (alphabets) typically used in all international transactions.
Use of Katakana, or any type of Japanese phonetic "spelling" for that matter, can be problematic due to inherent problem in Japanese language associated with homonymous words.
There are many names and words in Japanese language which may have the same pronunciation, and as well as the same phonetic spelling, yet have the different "spelling" under Chinese characters or "Kanji" characters. This can potentially lead to payment and billing errors.
About GCBD | Characteristic of Japanese Banking Practices
---