Receivables Finance
To discount trade receivables on a limited recourse basis and accelerate cash flow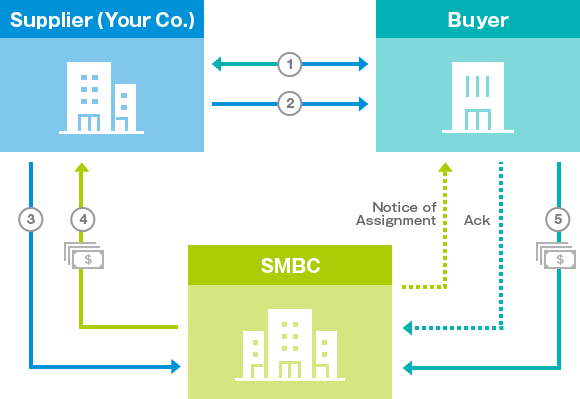 ①

Your company (Supplier) enters into sales contract with Buyer.

②

Your company ships the goods, issues invoice and records account receivables.

③

Your company assigns the account's receivables to SMBC. The perfection procedure on this assignment will be completed as per relevant regulations.

④

SMBC pays net proceeds after discounting to your company.

⑤

On maturity date Buyer pays to SMBC the full invoice amount.
・

Additional source of potentially cheaper financing for your company

・

Lower your company's Days Sales Outstanding (DSO) by getting paid in advance. (without the burden of L/C for both parties)

・

Potentially Off-balance sheet for your company (Supplier) subject to your certified accountant and auditors approval.

・

Obviate need for currency hedging by getting paid early.

・

Draft can be used as underlying instrument instead of invoice.
・

In case of commercial disputes there may be a recourse to your company