Custody and Securities Services
SMBC provides sophisticated custody, clearing and settlement, collateral management, BOJ cash clearing in regard to securities clearing and settlement, issuing and paying agent services to foreign investors both inside and outside of Japan.
Our Services
SMBC also provides a wide range of services related to Securities Services.
Custody Services
SMBC provides a wide range of custody services based on a highly advanced platform. To deliver valuable services to you, we are continuously investing in enhancements to meet our client's needs.
Corporate Action Information Service
・

We provide you with corporate action information through SWIFT and via website.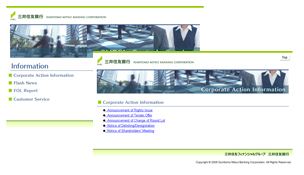 Proxy Voting Service
・

Proxy Voting Desk dedicated to the provision of high quality proxy voting services

・

Schedules and agenda of general shareholders' meetings available in English via SWIFT.
Customized Reporting Service
・

Monthly MIS reports for your accounts

・

Summary of account activities, STP ratio, non-STP analysis, etc.
Customer Service
・

Expertise with regard to the Japanese market to support your business.

・

Proficient customer service officers

・

Main officer and back-up assigned to each client to ensure service continuity

・

Flexible communication according to client needs: telephone, e-mail, fax etc.
Clearing and Settlement Services
SMBC provides Clearing and Settlement Services to process large volume of transactions.
High Processing Capability
・

High STP ratio

・

On-line linked with major market settlement infrastructures
Internet Web Service
・

Real time account monitoring through our website
Collateral Management
SMBC provides collateral management services through the dematerialized environment. These include:
・

Management of pledgee's rights

・

Management of shareholder's rights for pledger, etc.
Issuing and Paying Agent
SMBC offers exceptional services to Samurai bond issuers because of our abundant experience and know-how cultivated in the domestic corporate bond market.
SMBC has over a hundred year of experience in providing agency service in the domestic corporate bond market and entered the Samurai bond market more than forty years ago, the outset of the market, taking advantage of its experience cultivated in the domestic corporate bond market.
As a result, SMBC has consistently won Samurai bond mandates by matching issuer needs under severe competition.
Yen Clearing Services
Sumitomo Mitsui Banking Corporation (SMBC) is committed to providing speedy and accurate Japanese Yen clearing services, making us one of the most competitive banks in the industry. SMBC actively participates in industry organizations such as SWIFT, CLS Bank and is a direct member of local networks (BOJ Net, Foreign Exchange Yen Clearing System (FXYCS), Zengin System, etc.). Combining professional expertise and vast experience, we serve around 2,000 correspondent banks. Of these banks, approximately 1,000 have Yen accounts with SMBC.
WEB Reporting Service
Real time account monitoring through our website
Continuous Linked Settlement
SMBC is a major CLS Yen Nostro Agent.