December 30, 2014
Sumitomo Mitsui Banking Corporation
Sumitomo Mitsui Asset Management Company, Limited
SMBC Nikko Securities Inc.
Nikko Global Wrap Ltd.
Reorganization of Group Companies Pertaining to the Asset Management Business
Sumitomo Mitsui Asset Management Company, Limited (President & CEO: Kunio Yokoyama; "SMAM") and SMBC Nikko Securities Inc. (President & CEO: Tetsuya Kubo; "SMBC Nikko Securities"), which are group companies of Sumitomo Mitsui Banking Corporation (President: Takeshi Kunibe) have agreed that all of the shares in Nikko Global Wrap Ltd. (President: Hisafumi Taima; "NGW") held by SMBC Nikko Securities will be transferred to SMAM as follows.-
<![if !supportLists]>1. <![endif]>Goals of the Acquisition
There has been growing interest in diverse products contributing to long-term asset building and a wide range of services related to asset management in Japan due to factors such as increased share prices associated with the launch of NISA (Nippon Individual Savings Account) in January 2014 and monetary easing. SMAM and NGW, which provide asset management services in the SMBC Group, have jointly provided investment trust products to individual investors. This move involves combining the functions related to asset management that both companies have developed, and creating a new investment management platform to accurately respond to the diversifying needs of investors. NGW possesses knowhow on services contributing to asset building such as fund wrap and refined internationally diversified investment, and by becoming a wholly-owned subsidiary of SMAM, which is a comprehensive asset management company, this is aimed at improving the quality of SMAM's asset management services and enabling the provision of products and services with excellent quality and high added value to a wide range of customers.
2. Schedule and Structure
In April 2015, SMAM will acquire all shares of NGW held by SMBC Nikko Securities, making it a wholly-owned subsidiary. This will not result in any changes to NGW's company name, address, or services.
[Structure Diagram]
<![if !vml]>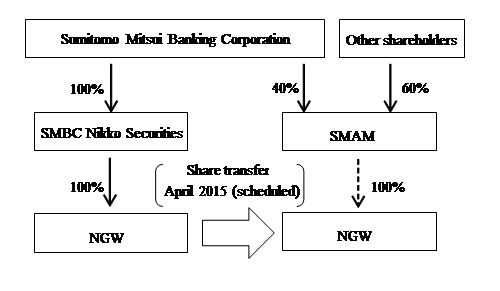 <![endif]>
[Reference: Overview of the Companies]
<![if !supportLists]>1. <![endif]>Sumitomo Mitsui Asset Management
| | |
| --- | --- |
| <![if !supportLists]>(i) <![endif]>Name | Sumitomo Mitsui Asset Management Company, Limited |
| <![if !supportLists]>(ii) <![endif]>Incorporated | December 1, 2002 |
| <![if !supportLists]>(iii) <![endif]>Shareholders | Sumitomo Mitsui Banking Corporation, Sumitomo Life Insurance Company, Mitsui Sumitomo Insurance Company, Limited, Mitsui Life Insurance Company Limited |
| <![if !supportLists]>(iv) <![endif]>Address | 2-5-1 Atago, Minato-ku, Tokyo |
| <![if !supportLists]>(v) <![endif]>Name and Title of Representative | Kunio Yokoyama, President and CEO |
| <![if !supportLists]>(vi) <![endif]>Businesses | Operations pertaining to investment management, etc. |
| <![if !supportLists]>(vii) <![endif]>Capital | 2,000 million yen |
<![if !supportLists]>2. <![endif]>Nikko Global Wrap
| | |
| --- | --- |
| <![if !supportLists]>(i) <![endif]>Name | Nikko Global Wrap Ltd. |
| <![if !supportLists]>(ii) <![endif]>Incorporated | December 20, 2002 |
| <![if !supportLists]>(iii) <![endif]>Shareholders | SMBC Nikko Securities Inc. |
| <![if !supportLists]>(iv) <![endif]>Address | 9-2 Nihonbashi Koamicho, Chuo-ku, Tokyo |
| <![if !supportLists]>(v) <![endif]>Name and Title of Representative | Hisafumi Taima, President |
| <![if !supportLists]>(vi) <![endif]>Content of Project | Operations pertaining to investment management, etc. |
| <![if !supportLists]>(vii) <![endif]>Capital | 1,499 million yen |